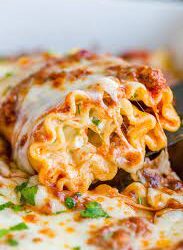 Cooking With David
David Maciel
Sponsored by Ray's Food Place
Lasagna Rollups
Lasagna rollups avare a perfect dish hot or cold. The ingredients can vary but what I have laid out is the foundation. I'm using a bottle pasta sauce but if you have a favorite recipe for home made, that's even better. Cooked (fresh or frozen) Spinach can be used as a substitute to meat or in addition with the meat. This recipe serves six, or three if you are extra hungry
Ingredients
6 dry lasagna noodles
1 32 ounce jar pasta sauce or equivalent of homemade sauce
10 ounces ricotta cheese
16 ounces shredded mozzarella cheese
16 ounces grated parmesan cheese
1 egg
1 pound ground beef
1 pkg of Italian seasoning
Preheat oven to 375. Boil the lasagna noodle according to the directions on the box and cool in cold water. Mix all the cheese together, reserving 6 ounces of the mozzarella & parmesan, and fold in the egg salt & pepper and mix well. Cook the ground beef, pouring off all the grease, and mix the Italian seasoning in, and let cool.
On a flat working surface layout one noodle. Use a spoon to make a liberal layer of cheese mixture and top with meat pressing it into the cheese. Start at one end and roll forward, and set in an oven proof pan seam side down that has a ¼ cup of sauce spread in the bottom. Allow room around each rollup. Repeat until you are done. Pour the pasta sauce evenly over the rolls making sure they are covered well. Sprinkle the remaining two cheeses and more if you like cheesy pasta.
Cover and bake for 30 minutes. Uncover and continue cooking for 10 minutes. The sauce should be bubbling at this point. Let stand for 15 minutes and serve.
Advertise in our Classified Section
25 words, $25
707.322.3403